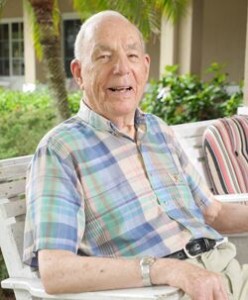 Seniors may need assistance in daily living in their retirement years. Sunnyside Village has Sunnyside Manor — a premier, assisted-living facility licensed by the State of Florida available to people 55 years of age and older who qualify. The Sunnyside Manor staff is dedicated to providing the everyday help and encouragement needed to extend independent living in a home-like atmosphere.
The caring, supportive staff of Sunnyside Manor, with family and physician, help each resident assess the appropriate level of care.
Quality expert care is provided around the clock for residents who find themselves in need of assistance in their daily activities. Services include supervision and self-administered medication and an emergency call system.
Each resident has a spacious studio or one bedroom apartment complete with housekeeping and flat linen service with a private, safety-designed bath. Assistance with personal grooming is available and there is a beauty and barbershop on premises.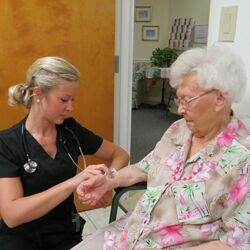 Regularly planned transportation and recreational activities help Sunnyside Manor residents enjoy a stimulating quality of life.  For those who do not wish to venture out, there is a General Store, where sundries are available; an ice cream parlor; an on-site bank; and the Grehlinger Room, where folks gather for weekly worship and entertainment.
In the Activity Room, residents can participate in a variety of crafts or simply read in the Library or visit in comfortable sitting lounges.  Three daily meals are served in the main dining room with special dietary consideration.  Optional guest meals and room service are available for a small fee.  Private dinner parties are available in a warm, inviting atmosphere.
Sunnyside Manor provides peace of mind and carefree living, while encouraging maximum independence.
Services & Benefits
Amenities
Comfortable one and two-room apartments
Private bathrooms with showers
Kitchenette with compact refrigerator
Individually controlled thermostat air-conditioning
and heating
Courtyard Dining Room
Sun Terrace private dining room for special
occasions
Village store / gift shop
Ice cream parlor
Library with computer center
Game & craft room
Living room with big screen TV
Comfortable lounge areas
Outdoor garden room
Cozy covered veranda
Chapel view screened lanai
Finch Aviary
Individual mailboxes
Manor Laundry Room
Beauty parlor & barber services
Chapel with full-time chaplain
Priority access to Sunnyside Therapy and Health & Rehabilitation Center
Services Include in Monthly Fee
24 hour nursing assistance and monitoring of emergency contact system
Assistance with showering, dressing, and personal grooming
Medications administered according to physician's orders
Housekeeping services
Daily bed making
Flat linen laundry service
Three delicious meals per day
Special dietary requirements as requested by physician
Scheduled transportation to physician office & lab appointments on Monday, Wednesday, and Friday between 9:00 AM and 2:00 PM within a ten mile radius of Sunnyside Manor
Scheduled shopping trips
Regularly planned recreational, social, and educational events
Digital cable TV & internet service with Wi-Fi access
Electricity & local telephone services
Apartment & grounds maintenance
Additional Services
Personal Laundry
Unscheduled transportation
Assisted Living FAQs
Q – What type of living quarters are available?
A – Each resident has a choice of either spacious ground floor studio or a deluxe studio; a two room one person apartment or two room shared apartment.
Q – Is there any storage available?
A – Storage is limited to resident apartments.
Q – Are there any kitchen appliances in the living units?
A – Each unit comes with a small refrigerator for your convenience. Other appliances are discouraged as a full service kitchen in the Activities Room is provided. However, small microwaves and coffee makers are allowed. Other appliances will need approval of administration to determine if they meet with fire codes.
Q – Can residents have televisions?
A – All units are wired for cable TV. If a resident does not have a cable-ready television set, a box can be obtained from the cable company for a fee.
Q – What safety features are included?
A – Doors and window locks have been installed for protection. Exterior doors are locked after 8:00 P.M. The front entrance has a bell for late entry. For security, smoke detectors are connected electrically to the switchboard and the fire station. No batteries are necessary.
Q – Is there any type of emergency call system?
A – Emergency pull cords are located in each bedroom and in each bathroom. They are connected to the switchboard for safety 24 hours a day. When the cord is pulled, a trained staff person will come to the resident's apartment. Additionally, a telephone off the hook for an extended period of time (several seconds) signals to the telephone operator that there is an emergency in the resident's apartment. Fire drills are mandated by State of Florida regulations. They will occur monthly. Internal and external drills occur twice yearly. Residents are given procedures to follow during each drill.
Q – What type of housekeeping services are provided?
A – Housekeeping will occur weekly for general cleaning and twice a week for bathrooms. Beds will be made daily. The laundry room is open 24 hours a day for personal laundry. Housekeeping will do sheets and towels at no additional cost. Laundry service for personal laundry is available for a fee. Trash is picked up daily in all rooms.
Q – Is smoking allowed inside the facilities?
A – Sunnyside Manor is a smoke-free facility. There is absolutely no smoking permitted inside our Assisted Living or Nursing Home facilities. Any resident who breaks this policy will be subject to discharge. Visitors may smoke in the Manor courtyard.
Q – Do residents have personal mail service?
A – Individual mailboxes are provided for each resident at selected locations. Packages will be delivered to the resident's apartment by staff. For outgoing mail, limited window service, including purchase of postage, is available at the Business Office.
Q – Are there any recreational facilities available?
A – Recreational facilities such as the lakeside walkway, swimming pool, shuffleboard, and horseshoe courts are available for resident use with supervision. The ice cream parlor is open daily, and a variety of treats are available for no charge to residents.
Q – What type of nursing is provided?
A – One of the benefits of living at Sunnyside Manor is the availability of a nurse 24 hours a day. Our assisted living facility has a Standard License, which allows us to administer medication, take blood pressures, and perform blood monitor checks for diabetics. Assistance with bathing, dressing, ambulating, and some special diets is available. However, more skilled nursing services may be attained through a Home Health Agency. Residents wishing to self-administer medication must be evaluated by the facility's Nurse Manager who, with the resident's physician, determines the appropriateness of self-administration of medicines.
Q – Can residents leave the facility for shopping and medical appointments?
A – Transportation to doctors and other medically-related appointments are scheduled on Monday, Wednesday, and Friday at no additional charge. Any other transportation needs may be scheduled for a fee. A free weekly shopping trip is available to interested residents.