Life can bring unanticipated trials, oftentimes affecting health. A fall in a home or outside can occur quickly but leave long lasting physical consequences. A stroke can affect someone's mobility or ability to speak. What is often a simple act of lifting an object can result in a sprain or strain. Sunnyside's Health and Rehabilitation Center staff understands the challenges of compromised health and want to get you or your loved one back to improved wellbeing. In addition to its exceptional care and reputation, Sunnyside Health and Rehabilitation Center offers comprehensive therapy services for its patients, residents and those in the Sarasota community. Sunnyside's Therapy Department is Medicare approved, and offers a range of physical, speech and occupational therapies including:
Static and dynamic balance therapy
Balance and vestibular therapy with a certified therapist trained by the Gans Institute.
Cardiac therapy
Rehabilitation for joints and strokes
Aquatic therapy
Occupational therapy to help people return to regular daily activities such as performing household tasks and personal tasks
Strengthening
Speech therapy, including cognitive communication and swallowing therapies.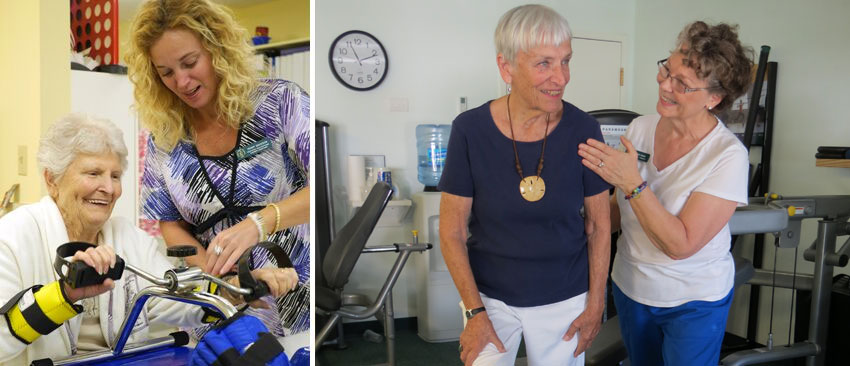 Physical, speech and occupational therapies can aid in the recovery of persons dealing with the side effects of strokes, muscular dysfunction, fractures, strains and balance difficulties. Sunnyside Therapy Department offers intensive treatments to increase patient functions. Employing experienced and highly trained therapists, Sunnyside Therapy individualizes in-patient and outpatient therapy to patients' need based on functional limitations and does so
through evidence based therapy with clinical outcomes. This means complete, personalized care plans to help someone progress back to improved or desired health and activities of daily living. For more information on our therapy services, contact 941-371-2750 ext. 256
"The therapy department's staff is friendly, professional and makes you feel comfortable. I made so much progress that I was able to finish my therapy earlier than expected."
– Jo Urbano
Sunnyside Village resident Jo Urbano has utilized the therapy department on three separate occasions for three different health issues and was pleased with her experience.
Rehabilitation FAQs
Q – How long will my rehabilitation take?
A – That is a case-by-case situation. Some folks are highly motivated; others are more compromised due to the diagnosis. However, regardless of the time, hopefully when therapy is completed, you will be able to function much better than when you first started.
Q – What can you do for my memory?
A – Many strategies are available that can help you remember better. We cannot cure memory loss, but we can help you function better
Q – Is it possible to improve my memory after a stroke?
A – Again, every case is different, but very often with time and therapy, regaining memory after a stroke is possible.
Q – Sometimes people lose the ability to talk after a stroke, can they regain their speech?
A – Very often, their verbal language can improve with therapy assistance. If it does not, we can assist with communication tools that will help the individual make his or her needs known.
Q – My balance is poor and I tend to fall a lot. Will balance therapy help me?
A – Depending on the reason for poor balance, therapy may help. We can offer many activities that may help improve your balance and walking.
Q – My hands are very arthritic and it is difficult for me to dress and button my clothes, and sometimes holding utensils to eat is a problem.
A – Our occupational therapists have many tools that you can use to keep you independent. We need to evaluate your needs to find the appropriate adaptive device for you.