The Montessori Care Distinction
Sunnyside Village is a Gold-level credentialed Montessori Inspired Lifestyle® Community. Our focus at Shepherd's Landing is to sustain purpose by providing choice and opportunities for continual learning to empower our residents to live enjoyable lives.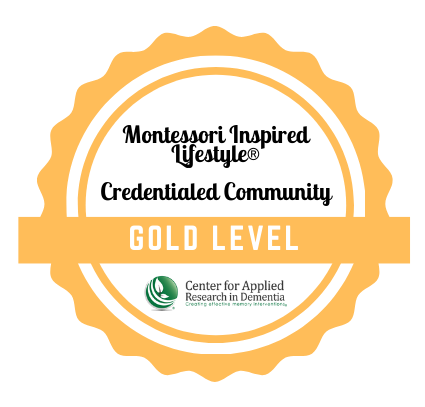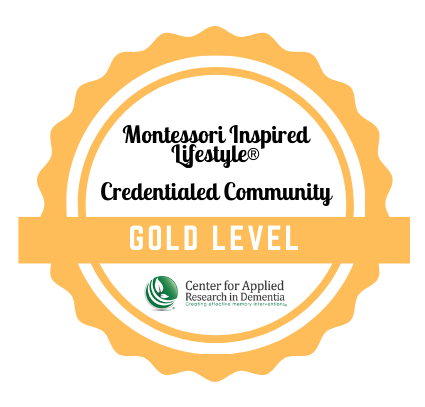 Montessori-Based Dementia Programming® is an innovative approach to memory care that combines rehabilitation principles and educational techniques using the physical and cognitive abilities available to individuals. This method has been proven successful in engaging persons with dementia.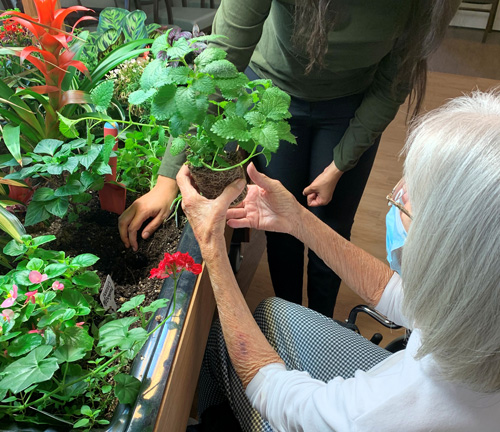 Our first objective is to obtain knowledge about your loved one. Valuable facts about their life, family, career, interests, and strengths help our care team create and offer tailored engagement programs based on their interests. Our trained and certified Sunnyside's Montessori Inspired Lifestyle® care team creates sensory and productive activities that are gratifying. Persons with memory impairment can continue learning new tasks and procedures, providing motivation and fostering significance.
Familiar Design
Many persons with memory impairment function better in quiet, smaller spaces. With 18 resident apartments, Shepherd's Landing is designed to support a smaller population. The household setting with a country kitchen, dining room, living room, and family activity rooms provide relaxed settings for residents and guests.
A large veranda is a welcoming outdoor space with café tables to enjoy the fresh air and a cup of coffee. The beautifully landscaped courtyard encourages strolls to outdoor activity areas, winding walkways for exercise, and benches to relax and observe nature.